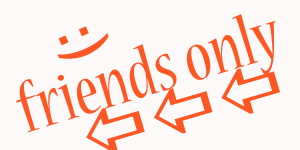 Comment to be added
Let me know how, or if I know you from somewhere.

All icon/fanart posts will be friends only as well. :}

I've had this account for at least a year, and so far have kind of just been a LJ lurker. That's creepy, I know. I figure I might as well use it now. Even if nothing comes of it, at least I'll be able to vent a little.
I guess I'll list a few common facts that could be useful for understanding any further entires.
My name is Tory, and I live in California; More specifically, near San Francisco. I am 16 years old, and love horses and TV.
Current Celebrity Women Loves: Kate Walsh, Jennifer Nettles, Mariska Hargitay, Stephanie March, Kara Diogaurdi,Sara Ramirez , Sarah Shahi, Jennifer Beals, and Lauren Graham.
Yes, I am a major "Fangirl".
TV Obsessions: Private Practice, Grey's Anatomy, The L Word, The Tyra Banks Show, Friends, and Gilmore Girls.
Main Music: Sara Ramirez, Beyonce, RIhanna, Martina Mcbride, Destiny's Child, Surgarland, Audra Mcdonald and Reba. Really though, I like almost everything.
Couples I 'Ship: CADDIE, Addek, McStorres, Callica, Alice and Dana, Shane and Piage, Monica and Chandler, Gabby and Carlos, Loreli and Luke, Rory and Jess, Lynette and Tom, Bette and Tina, and Carmen and Shane. :)
AIM: lovesome tory
MSN: ToryElsineitti@hotmail.com
Yahoo: Tory_x3@yahoo.com (rarely use this)
Hmmm. If I think of anything else to add, I will. Any questions or care to chat, feel free. :D
Current Mood:
excited
Current Music: So Excited-Janet Jackson